Lawnmower Repair Naperville IL
Whatever the time of year, it's always a good time to be sure that you're up-to-date on Lawnmower Repair Naperville IL. A well-maintained mower should last you for a long time – which is much more likely when you bring in your mower to have it regularly serviced by our experienced small engine techs. We can perform maintenance and repairs on any make or model lawnmower. We'll check the oil, sparkplugs, air filter, inspect the belts and – if yours is a riding mower – check and recharge the battery. We also check the blades on your Lawnmower Repair Naperville IL and sharpen them up if they're getting dull. We can replace the blades for you if necessary.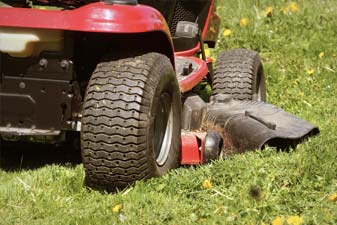 Before operating your lawnmower, be certain to read the instruction manual thoroughly. Don't remove any of the unit's safety devices, and add fuel only before starting the mower – not while it's still running or while it's still hot from use. It's also important to never leave a Lawnmower Naperville IL unattended while it's running. Shut down the mower if you have to walk away from it, and do not touch the engine right after shutting it down because it can still be very hot.
Other safety tips related to Lawnmower Repair Naperville IL we recommend you follow include:
*When using your mower, wear protective gloves, durable footwear, long pants and protective eyewear. Do not mow your lawn wearing open-toe shoes or barefoot.
*Do not consume alcohol prior to operating a lawnmower.
*While mowing, avoid texting, talking on your cell phone, or listening to music.
*Even when the unit is turned off, avoid touching your lawnmower's blades. If debris is restricting it somehow, the blade can suddenly move and result in injury.
If you're in need of Lawnmower Repair Naperville IL, bring it in to the small engine specialists at your local repair shop! Cress Creek is in at 25 S. IL-59 Aurora, IL 60504. Or give us a call at 630-355-5440 to set an appointment.